14th New Media Film Festival Unveils Animation & Trailer Premieres June 7 Online, June 8 In-Person Los Angeles CA
New Media Film Festival ® the first major festival in innovation, story, mediums & platforms, announces its content lineup for its 14th edition, running June 7-8th, 2023. This year's lineup features 106 Content Titles from 22 Countries with 37 World – 10 US and 41 L.A. Premieres
New Media Film Festival® features media outside the traditional Hollywood scope with; films, trailers, shorts, digital comics, web series and 23 other categories highlighting new advancements in technology, financing, and convergence media. Submissions to the New Media Film Festival® are seen by judges from Marvel, PBS, HBO, BBC, Rolling Stone, Simon & Schuster, and the Television Academy, allowing creators to connect with some of the most significant names in the industry.
Full details of all 106 nominees can be found at https://www.newmediafilmfestival.com/events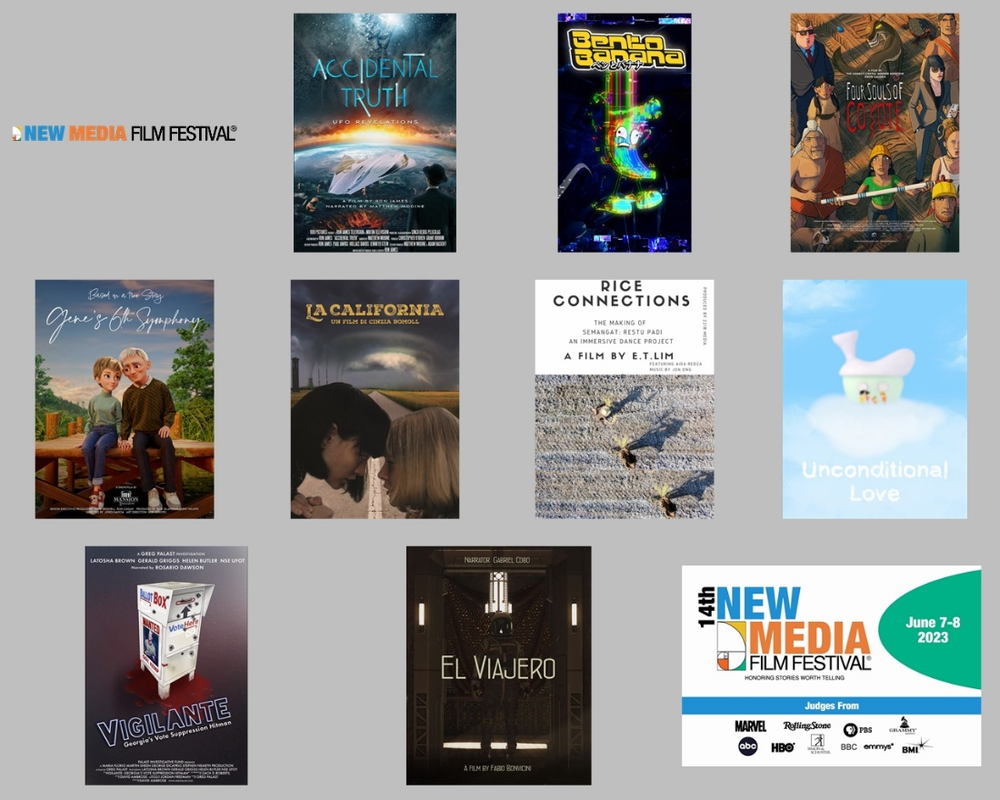 A sampling of nominees in the Animation & Trailer Categories include:
World Premieres
ACCIDENTAL, TRUTH, – UFO REVELATIONS narrated by Multiple Award Winner Matthew Modine
Director – Ron James
The reality of an advanced intelligence engaging with humanity becomes undeniably clear.
L.A. Premieres
VIGILANTE – GEORGIA'S VOTE SUPPRESSION HITMAN narrated by Martin Sheen
Director – David Ambrose
The rifle-toting Governor of Georgia, scion of the family that, few know, first brought enslaved Africans to Georgia, secretively organizes a posse of "vigilantes" to challenge thousands of Black voters—until he runs up against Major Gamaliel Turner of a legendary civil rights family—and up against one take-no-prisoners detective, BBC/Rolling Stone investigative reporter Greg Palast.
FOUR SOULS OF COYOTE
Director – Aron Gauder
Billed as an epic adventure based on a Native American creation myth, the film highlights the increasingly pressing need to live in harmony with the environment — before it is too late.
BENTO BANANA
Director – Ari Grabb
About a talking artificially intelligent banana and his eggplant sidekick existing within a procedurally generated anime that appears to be mysteriously glitching.
GENE's 6TH SYMPHONY
Director – Jordi Garcia
Based on a true story and was born with only six notes of music that became a symphonic magical story that defines true love and a life-long journey ending with a hope that lives forever.
UNCONDITIONAL LOVE
Director – Wallis Liu
About parents making a kite for their kid with which they teach him to fly.
U.S. Premieres
EL VIAJERO
Director – Cinzia Bomoll
This animated short film reinterprets in a lysergic and hallucinated way the images of the Marseille tarot of a traveler in a future world that mixes with timeless paradises full of dying gods. Made with Unreal Engine 5.
LA CALIFORNIA
Director – Cinzia Bomoll
Sometimes you have to put yourself in your total opposite's shoes in order to be the woman you want to become, and even if that's the dearest person you have in the world, you must fight her.
RICE CONNECTIONS
Director – Ee T. Lim
About an artistic journey of Aida Redza, a Muslim female contemporary dancer from Malaysia, created a dance performance site by growing the paddy plot from scratch during COVID-19.
Media Contact: [email protected]
https://www.newmediafilmfestival.com
2355 Westwood Blvd. 381
Los Angeles CA 90064
USA
310-288-1100
Media Contact
Company Name: New Media Film Festival
Contact Person: Crystal Zen
Email: Send Email
Phone: 310-288-1100
Country: United States
Website: https://www.newmediafilmfestival.com